How Does a New Garage Door Add Value?

November 29, 2015
Recently, several reports have shown that installing a new garage door to your home adds value. Remodeling Magazineís most recent Cost vs. Value report indicated that homeowners saw an 84% return on their investment when they installed a new garage door.
Other reports further corroborate these high returns. In 2014, the U.S. News and World Report published that replacing your garage door yields an 83.7% return on investment. Fox News reported in 2011 that not only does replacing your garage door return high in the value of the investment, but it is the number one way to improve the value of your home.
But how does this investment actually add value to your home?
Here are three ways that this investment adds value to your home:
1. Improves the safety of your home
A new garage door means itís using newer technology. Not only can you choose the material that your garage door is made out of, like steel, but you can also make sure that your door is operating within Federal Regulation standards for garage door openers. If your door was made prior to 1993, it is unlikely that it would even pass inspection (UL 325).
You store important items in your garage: cars, workshop materials, tools, valuables you have saved throughout the years, and a door to the place where you eat, sleep, and relax. Shouldnít the garage door be as secure as your front door, if not more?
2. Improves curbside appeal
You can now add more beautiful features to your garage door than ever before. Do you live in a wooded area? Why not add custom wood doors to have your home match the beauty of the world outside you? Anodized aluminum and glass doors provide a modern feel for a modern house. The wrong colored doors, or the wrong material can easily detract from the aesthetic of your home. In the same way that landscaping and a fresh coat of paint can increase the value of your home, so too does adding a new garage door.
3. Improves energy efficiency
New garage doors can help the insulation of your home. Not only does this improve the total of your energy bill at the end of the month, but it also is good for the environment. When you need less energy to keep you warm, you use less energy. An older garage door could be sucking all the warm air from your home. A great way to need less energy is to provide better insulation with the help of a new garage door to keep out the cold.
If you want to make your home safer, improve your curbside aesthetic, and increase the energy efficiency of your home, then contact Precision Door Services of Spokane today. They can help you find the right new garage door for your home.

View Financing Options
Precision's Average Rating





6605 Total Reviews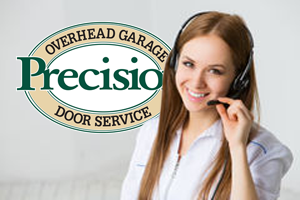 Let Us Call You!