Cellphone Garage Door Opener

February 29, 2016
These days, we use our cell phones for everything and always seem to have them near. They seem to have morphed from a simple communication tool to an electronic swiss army knife, capable of just about anything, some useful and some kind of pointless. One seemingly very convenient application we've found is to set up your phone as a garage door opener. There are actually a few different ways this can be undertaken, so we thought we'd walk you through a few of the most popular set-ups just to get you started.
New Opener with Built-in WiFi
If you're looking to revamp your garage or you're starting from scratch, new garage door openers are commonly being made with built-in WiFi all ready to be set up to use with your cell phone, or even a computer or tablet. This is the best way to go if you're looking for all the bells and whistles. Control and monitor your garage door from anywhere in the world, let in stranded family members or delivery people and get rid of that clunky remote that you've got on your visor. Professional installation and set-up is valuable perk, as well!
Add-on WiFi Receiver
If you're not quite up for installing an entire new system, you can buy an add-on receiver that can connect to your existing model. They will hook up with your home internet and work similar to the built-ins with long distance control and cell phone applications. These DIY receivers generally only require connecting a few wires then syncing with your router. An excellent choice if your somewhat electronically inclined and looking to save a few bucks.
Bluetooth Receiver
The final option we've found is the simple Bluetooth receiver. Installation is similar to the add-on WiFi, but without the need to connect to your internet. The major difference is it's range. These openers will only work when your cellphone is in close enough range to connect to the Bluetooth. But an added perk of these systems is the ability to set up an automatic open and close function when your phone either connects or disconnects to the Bluetooth. These are very convenient, especially for motorcycles.
Whichever option you end up choosing, we are always here to help. From Precision Doors, here for all of your garage door needs!

View Financing Options
Precision's Average Rating





6899 Total Reviews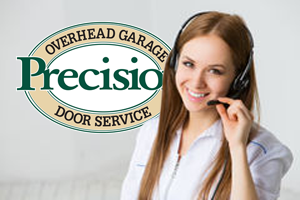 Let Us Call You!